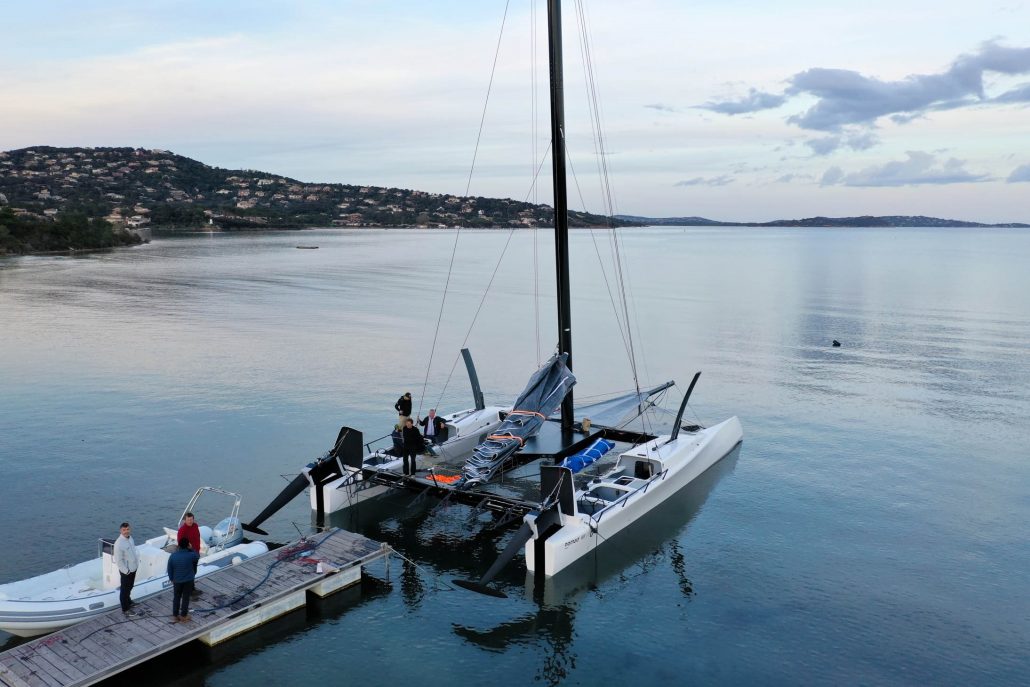 RC50
THE BOAT
The boat is a fast sailing foiling cat, foldable and transportable in two 40' containers. She was designed & optimized for semi sheltered areas with maximum of 1-meter swale but will be able to sail at sea without using foils in windy conditions over 25 knots TWS. The naval architect of the boat is Martin Fisher.
Key design points:
-lightweight composite sandwich structure
-minimal Spartan design maximum performance
Construction:
The full boat is manufactured by Pauger carbon.
Prepreg carbon epoxy sandwich construction.
Pauger machined the plugs and then built the female moulds from it.
Boat specifications
Sloop
Light Displacement
Private leisure yacht
L foils T rudders
LOA 15,24 m
Beam 8,65 m
Hull CL dst 7,50 m
Central pod max width 1000 m
Light displacement  approximately 3610 kg
Max weight approximately 4200 kg
Mast Length 23,00 m
Height above DWL 24,50 m
Max draft 2,60 m
Crew 6persons
RM@30degrees 17000 kgm
Fuel tank 50 l
Fresh water tank 40 l
Engine: Yamaha outboard 60 HP x 2